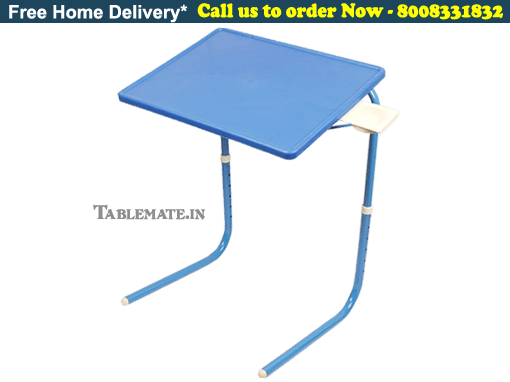 ♥ Available in 9 Different Colors
♥ Free shipping all over India
♥ Best deals @ Lowest Price
♥ Cash On Delivery  For safe Shoping
♥ 100% Quality ♥ Orignal Products
WELCOME TO TABLE MATE
TABLE MATE is a finest quality multipurpose table furniture for your home that can be used for eating, using as a laptop stand, study desk, reading, writing, drawing, arts and craft, board games, as an outdoor tray table, trade shows, gardening, patio tray table, serving tray table etc. Table mate is an advantageous advent that can be used for both indoor and outdoor activities. It is an ultimate adjustable and portable folding table that slides right up to your body and provide optimum support for doing your work.
A Brand New Solid Multi Tablemate - Single
Multi-Table Mate Proud Made in India Table Mate with Cup Holder 3 Times Stronger than CHINA table mates
Call To Order By Phone 98499 90968
All about Multipurpose Tablemate
Great Features
»
 Portable
» Table tray that can adjust to 6 different heights and 3 angles
» Light in weight
» Adjustable Cup Holder
» Multiple table Like having 18 tables in 1
» Ideal for those with limited space and mobility
» Holds up to 20Kg
» Folds flat for storage or stacks
Tablemate Multi Uses
» 
Laptop holding table
»
 Study desk
»
 Reading table
»
 Writing table
»
 Drawing table
»
 For playing board games
»
 Card table
»
 Outdoor tray table
»
 Patio tray table
» 
Serving table
Major Benefits
»
Table Mate slides right up with just one finger until it touches your body.
» Takes 2 minute assemble without any tools or fasteners.
» Ideal for people in limited space environment like students or the elderly
» Table Mate  stack next to each other in semi-folded position
» Ideal for anyone with mobility problems or anyone recovering from an injury, illness or operation
» No cross-braces to bump your legs on
» TV Tray Table adjusts in three different ways – to your body size, to the activity you are doing and to the chair you are sitting
» It is the most comfortable table ever for eating in front of the television or using for a laptop computer.
The product package contains
»
2 x Legs
»
1 x U-tube
»
1 x Tray
»
1 x Instruction Sheet